Clean Air Solutions From Palmetto Heating and Air
Indoor Air Quality Solutions
Breathe Cleaner, Fresher Air! – At Palmetto Heating & Air we are dedicated to keeping the air that you breath as safe for you as possible. That is why offer three distinct clean air solutions to our customers. These solutions are available for both residential and commercial installations. Pollutants, dust, dander, pollen, smoke and even pathogens such as mold, viruses and bacteria all can be suspended in the air you breathe. Take steps today to improve your air quality Today! See our solutions below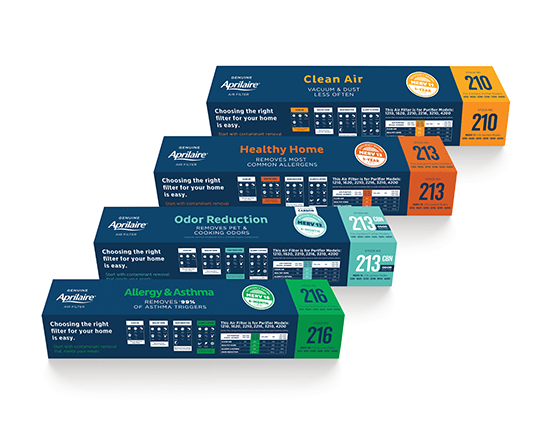 Why We Use Aprilaire
When you choose a genuine Aprilaire Air Filter, you're choosing Healthy Air. You're also helping to both protect your HVAC systems from fewer service calls and make them last.
Genuine Aprilaire filters are specifically engineered to work with your Aprilaire air cleaner. They are effective for 6-12 months compared to the traditional 1-3 month filter, saving you time and money. Our 4-inch filters provide more filter area for harmful particles to be captured compared to the traditional 1-inch filters. Aprilaire's patented self-seal technology assures no air will pass by unfiltered, keeping your home clean and HVAC system operating at peak performance.
Our Filters
Aprilaire offers four different filter types: Clean Air, Healthy Home, Odor Reduction, and Allergy & Asthma protection.
Our filters are MERV rated, which is a measurement scale that rates the effectiveness of filters trapping airborne particles. The scale ranges from 1-16, with 16 being most effective.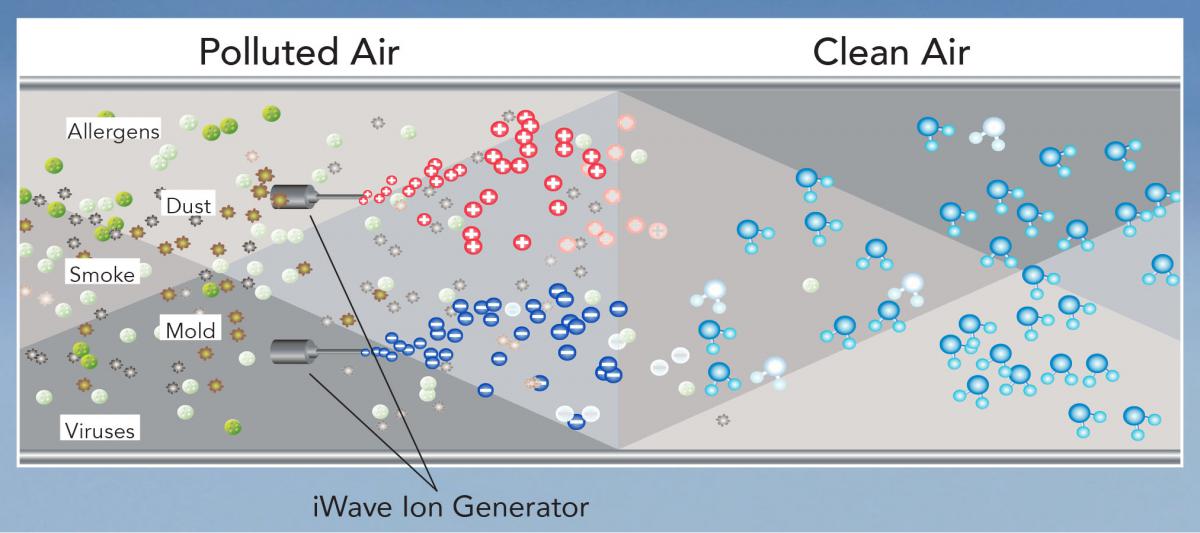 How iWave Works
Pollutants, dust, dander, pollen, smoke and even pathogens such as mold, viruses ad bacteria all can be suspended in the air you breathe, even when you don't see them. An iWave air purifier installs in your air conditioning system to help clean the air in your living space. When air passes over the iWave, ions produced by the device reduce pathogens and other airborne particles, creating a healthy environment without producing any harmful byproducts.
iWave uses patented needlepoint bipolar ionization (NPBI) technology to create equal amounts of positive and negative ions. When these ions are injected into the air stream, they break down passing pollutants and gases into harmless compounds like oxygen, carbon dioxide, nitrogen and water vapor (see illustration below).
When the ions come in contact with viruses, bacteria or mold, they remove the hydrogen molecules – without them, the pathogens have no source of energy and will die. The ions also attach to allergens like pollen and other particles, causing them to band together until they are large enough to be caught by your ventilation system's air filter. This process is proven by independent laboratory testing to be both safe and effective.
iWave's technology generates the same ions that nature creates with lightening, waterfalls, ocean waves, etc. Nature uses energy and shear to break apart molecules, naturally cleaning the air and producing a healthy environment. The only difference between the iWave's technology and nature is that the iWave does it without developing harmful ozone.
Global Plasma Solutions
Cleaner Air, Naturally
Reducing airborne viruses through better indoor air
GPS offers revolutionary technology that fights pathogens and provides cleaner, safer air. Our patented needlepoint bipolar ionization (NPBI) technology can be found in more than 250,000 installations worldwide.
A safe and effective way to improve indoor air quality
We continuously work with independent laboratories to create products that are certified as ozone-free and validated to perform against particles, pathogens and VOCs.
The air around us is filled with particles such as dust, dander, pollen, smoke, odors and even pathogens including mold, viruses and bacteria. Our patented NPBI® technology cleans the air by introducing ions into the space via the airflow in your ventilation system.
Our technology delivers indoor air that's free of ozone and other harmful byproducts. Through NPBI, GPS products improve the air by reducing airborne particulates, odors and pathogens, as well as save up to 30% on energy consumption and lower your carbon footprint.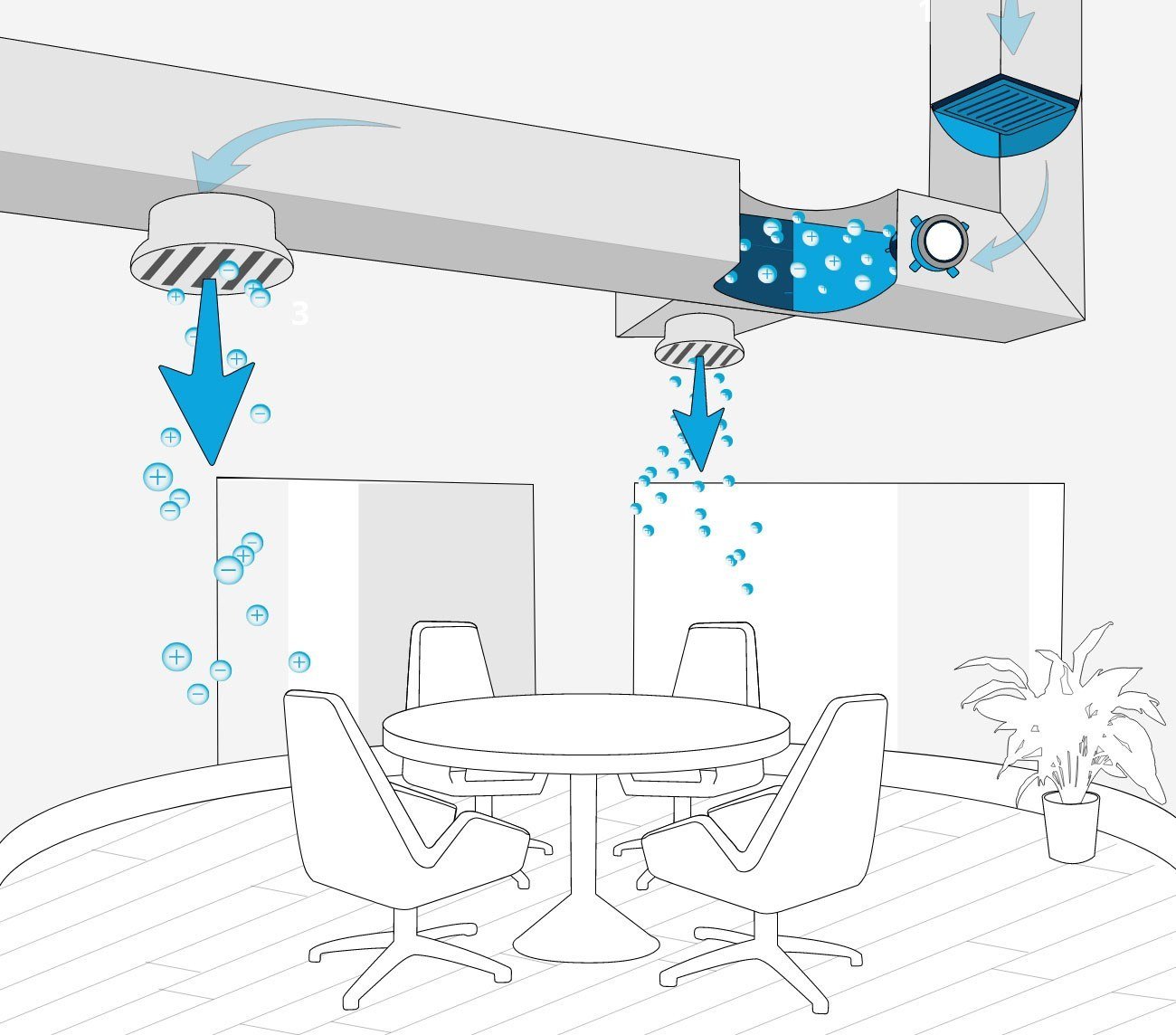 Engineering air for a cleaner world™
GPS' NPBI technology cleans indoor air. This patented technology produces a high concentration of positive and negative ions, delivering them to the space via the ventilation system. Within the air stream, ions attach to particles, where they combine, become larger and are more easily filtered from the air. When ions come in contact with pathogens, they disrupt the pathogens' surface proteins, rendering them inactive.
ION DELIVERY
In-room ion density is dependent on a variety of factors, including proximity of the ionizing equipment to the occupied space, air flow rates, and path of the ductwork within the building.